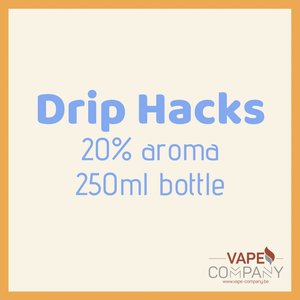 Toevoegen aan winkelwagen
Drip Hacks - Pink Boy
Size : 250ml
Kostenloze verzending
Bestellen voor 18u, volgende werkdag geleverd.

Steve V.
18-02-2020 14:33
Koper heeft geen omschrijving achtergelaten.

Dick D.
28-09-2019 12:08
Very nice lemony/lemonade flavour. The 7 day steep however is not long enough to get the full potential. A month would be a better estimate. It is the second time I bought this so that says it all.

Mitch K.
26-03-2019 17:31
Een heerlijke zachte smaak van zoete limonade. Enige nadeel is dat de liquid te snel op is!

Jim N.
19-01-2019 10:50
Zo lekker. Ik wil dit drinken

Danny C.
18-01-2019 17:37
niet echt slecht maar ook niet woow
eentje om zo eens tussendoor te dampen
maar ja smaken verschillen

de clercq d.
18-01-2019 15:29
Lekker zoet juicke niet super maar wel heel lekker!

Lander Van den Brande
11-12-2018 15:37
Omdat ik zeer grote fan ben van de pink lemonade van Element, was ik zeer benieuwd naar deze!
en wat ben ik blij dat ik het geprobeerd heb, deze overtreft alles en behoort tot 1van de betere die ik op 2j vapen heb geproefd!
zeker een aanrader!
4.3
sterren op basis van
7
beoordelingen