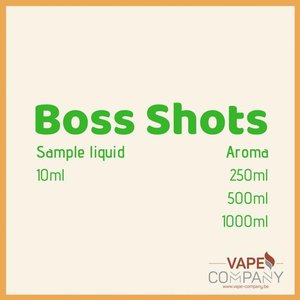 Toevoegen aan winkelwagen
Boss Shots - lunch lady
Size : 500 ml
Kostenloze verzending
Bestellen voor 18u, volgende werkdag geleverd.

Rob
19-11-2021 09:33
Make sure you use large bottles, as this one is great. Comes close to the original Lady, and an easy all day vape. Love the lemon in this.

Michael R.
11-11-2019 18:29
Moet 4 tot 8weken stepen dus moet nog even geduld hebben maar het ruikt al super , top service ook van aroma comany

Jurgen A.
13-07-2019 12:42
nog 4 weken dan testen

joris serpieters
24-10-2018 14:35
heerlijke bakery liquid; in het begin overheerst de lemon maar naarmate hij rijpt komt het beslag & de volle zoetigheid tot zijn recht; voor mij 1 van de toppers in het boss shots gamma !

Pollet M.
18-01-2018 16:32
Één van mijn favoriete. ADV

Sam D.
09-11-2017 17:17
Is momenteel nog aan het steepen. Heb deze eens geproefd bij een kennis en was meteen verkocht.
Bij het opendoen van de fles kwam er een geur vrij die je laat watertanden.
4.85
sterren op basis van
6
beoordelingen